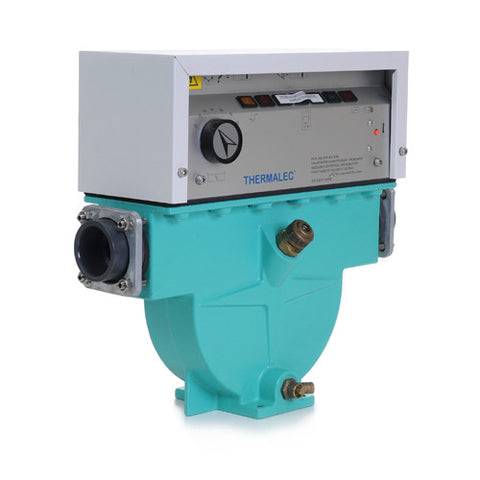 Thermalec Titanium Electric Heater -
Product Code:
Features: Now with titanium elements. Cast iron heater body. Heavy fusion bonded epoxy coating. Impervious to salt and chemically treated pool water. 35psi design pressure operating at a normal working...

Features:
Now with titanium elements.
Cast iron heater body.
Heavy fusion bonded epoxy coating.
Impervious to salt and chemically treated pool water.
35psi design pressure operating at a normal working pressure of 30psi gives protection to the whole installation.
Drain valve allows the heater to be emptied for winterisation.
Removable upVC stub flanges mean no unions or heat sink are required.
Flow direction is left ot right, can be reversed on site.
Copper, incoloy or titanium elements individually mounted in a removable top plate.
Allows easy element renewal and inspection of the interior of the vessel.
2A fuse protects the control circuit.
Minimum of 6 indicator lamps monitor every stage of operation for simple diagnostic servicing.
Single Phase: 3kW-6kW
Single & Three Phase: 7.5kW-24kW
Three Phase: 30kW-72kW
Cast in BS-EN-1561-1997-ENGJL-200 iron, with a heavy fusion bonded epoxy coating impervious to chemically treated pool water, constructed in accordance with British Patent 2.092,282 Design pressure of 35psi (2.46kg/cm2) with 3/4" safety valve(s) set to operate at the maximum normal working pressure of 30psi (2.1kg/cm2) giving protection to both the heater and and the installation as a whole against over pressure. A 1/2" drain valve at the lowest point allows the heater to be left empty in winter. Flow connections consist of easily removable uPVC stub flanges into which the pipes may be fitted using suitable adhesive, as the flanges can be released easily from the heater no unions are required, nor is any form of heat sink needed. Flow direction is from left to right, but may be reversed quite simply on site following the installation instructions. 
The construction of the heater is solid and robust, to ensure years of safe and reliable service. 
The contact materials are highly resistant to corrosion from pool chemicals. Thermalec® pool and spa heaters can safely be used with sea water pools as well as in demanding applications such as Hydro- and Thalasso- therapy. 
The watts density of the heating elements is very low (9.54 W/cm²), ensuring minimal scale build-up and long element life. 
The heating elements are always submerged in water. Any air bubbles entering the heater pass through it above the water and across the unheated parts of the elements, preventing any damage to the latter. 
The patented weir and baffle system inside the heater causes the water to flow through it in a spiral. This increases uniformity of the water temperature inside the heater and prevents direct impingement of cold water onto the elements. 
The spiral flow regime of the water inside the heater discourages scale formation, extending element life. 
The heaters have no flow switch. These are notoriously unreliable. Any air bubbles passing through the heater will cause any flow switch to make and break repeatedly in rapid succession, causing the contactors to do the same, thus shortening their life. 
Thermalec® heaters are flexible: The water flow direction is normally left to right. If required, this can be easily changed on installation by means of a simple modification. Most models may be easily changed by a qualified electrician from single to three phase operation and vice-versa. 
The thermostats used in Thermalec® pool and spa heaters have a low operating differential. This is essential to maintain the swimming pool at a virtually constant temperature. 
Heaters with higher operating differentials are likely to allow the pool to cool to an uncomfortably low temperature before switching the heating on. 
Top quality contactors have been used and their ratings generously selected to give a long service life and minimum risk of operational problems, particularly in pool plant room 
conditions. 
As a safety precaution, the heaters are provided with an interlock relay, which has to be connected to the filter pump control circuit. The heater will not operate unless the interlock is wired and the filter pump is energised. 
Status indicator lamps on front of panel to facilitate troubleshooting and diagnostics.
Delivery will be confirmed with you after your order has been placed, we work hard to ensure products are delivered within 2-3 working days but however due to the size and weight of some of our products this can be longer. If we think we might not be able to hit our delivery target we will get in touch with you asap and update you on the process.
Our policy lasts 30 days. If 30 days have gone by since your purchase, unfortunately we can't offer you a refund or exchange. To be eligible for a return, your item must be unused and in the same condition that you received it. It must also be in the original packaging. Several types of goods are exempt from being returned. Perishable goods such as food, flowers, newspapers or magazines cannot be returned. We also do not accept products that are intimate or sanitary goods, hazardous materials, or flammable liquids or gases.